Voxi by Vodafone
Building a community of young creatives to be at the very heart of Voxi by Vodafone's marketing strategy.
Watch Video
90% of all UK 16-24 year-olds reached.
43 million views achieved.
650 pieces of community generated content.
Overview
Vodafone has ramped up its ambitions to become the provider of choice for young people with the launch of Voxi – a standalone, SIM-only network designed for under 25s that is putting young creatives at the very heart of its marketing strategy.
Aim
To build and activate a totally new brand that resonated with 16-24 yr olds across the UK.
Strategy
Bulbshare worked alongside Latimer to recruit a community of 200 of the UK's top young creatives, aged 16 - 25, from animators and graphic designers, to filmmakers and photographers. We ensured the community was truly diverse, from geographical location, to ethnicity and gender; to ensure that the content had broad appeal. We also enlisted the help of leading influencers, who shared content via their social channels, to shine a light on the creators and extend reach. Once onboarded, the Bulbshare platform was used to engage with the community in real time generating authentic original content validated by the audience that could be distributed across social media driving mass awareness and reach.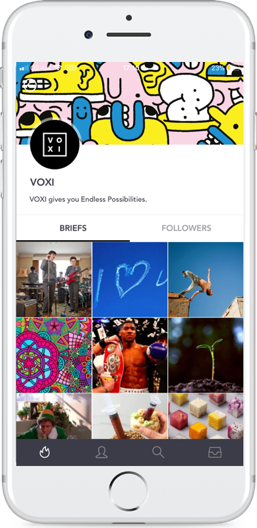 Results
90%
90% of all UK 16-24 year-olds reached.
Content smashed all benchmarks set, delivering 43 million views.
650 pieces of community generated content.